When King William county animal control rescued Hope in mid-February several years ago, they had little hope that she would survive. She weighed only 31 pounds and was anemic, malnourished,  and very dehydrated.  In fact, the poor emaciated creature so weak she was unable to stand.   Because some Virginia counties have limited resources and few links to rescue groups and humane societies to help them with the animals.  Routinely, Hanover Humane's volunteers visit local shelters and pounds to find adoptable animals so they can be rehabilitated and find forever homes.    It was on one of these visits that Hanover Humane found the dog named "Hope."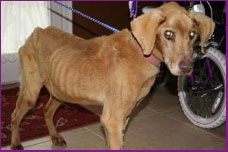 After being hospitalized for a week at the King William Veterinary Clinic, Hope gained 7 pounds and,  though unsteady on her feet, was able to finally stand on her own. She received antibiotics, IV fluids, vaccinations, a lot of puppy food and many prayers. In addition to being near starvation,  Hope had several other health concerns which made her recovery questionable:  severe anemia and a severe case of heartworms.  Not to be daunted, her foster mom and dad provided Hope with much needed TLC; they doted on her!  Gradually, Hope began to gain weight and feel better; her fur began to grow back.  To our surprise,  Hope was a beautiful chocolate lab!   Hope continued to do well, but, due to the severity of the heartworms, the vet didn't feel that Hope could withstand heartworm treatment.  Her only option was to be placed on monthly preventative and monitored for whatever time she had left.
On April 3, Hope went to the veterinarian for a check-up. At 49 pounds, her white and red blood cell counts are normal and she is no longer anemic. Hope has a good disposition and Hanover Humane wanted to find her a home;  however, her overall health was still not assured due to advanced heartworm disease and its consequences.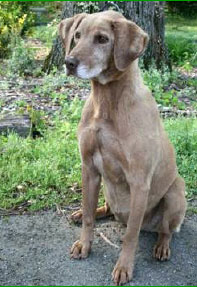 Because Hope had been through so much and had survived, she had a place in the hearts of each of Hanover Humane's adoption volunteers.  One volunteer in particular, Miss Beverly, was deeply attached to Hope.   After several sleepovers to see how Hope would react to a new environment, Miss Beverly decided to adopt Hope.  Hope and Miss Beverly are very happy!    While we see Miss Beverly several times a week, occasionally Hope will decide to tag along so we can play with her and see how she's doing.  We're eternally grateful to Miss Beverly for giving Hope such a wonderful home, and, if Hope could speak, I'm sure she'd tell Miss Beverly that she loves her very much.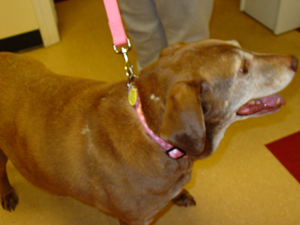 In honor of Hope Hanover Humane Society has started a new special listings page called Hopes's list. This page is dedicated for special needs animals like Hope that can not participate in our regular adoptions program. Please email all inquires to: info@hanoverhumanesociety.org.