Recently, Pearson's Corner Elementary School embarked on a school-wide reading campaign on January 11, 2010.
To kick-off the event, the school organized several assemblies  where the children met "Chip", a former Hanover Humane Society pup. The children learned about Chip, his mom, and his brother and sisters who all were in Hanover Humane's foster program. The children asked "Chip" questions, and then he walked around to meet all of them in the assembly hall.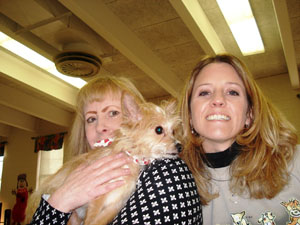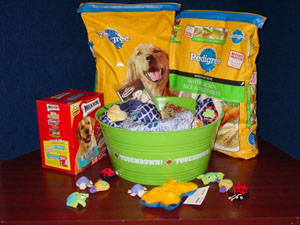 As a show of thanks, the children gifted "Chip" with some goodies that he could share with Hanover Humane's foster animals.  "Chip" enjoys going out in public to meet people and share information about Hanover Humane's Adoption, Education, and Prevention Programs.  He's had a number of "speaking" engagements recently with several more planned over the next months.
If you'd like to meet "Chip" and have him come to your special event, birthday party, etc. please email him at info@hanoverhumanesociety.org to obtai more information.