During the Month of March, the Kings Branch of EVB at 9495 Charter Gate Drive in Ashland held a supply and funds drive for the Hanover Humane Society. The event was coordinated by Sherry Jenkins, Assistant Branch Manager, and Josh Holder, Branch Manager. Customers and employees donated food, treats, and other supplies as well as made monetary donations to help the animals in Hanover Humane's Adoption Program. On March 31st, a representative from Hanover Humane visited EVB and brought a special furry friend along so everyone could meet him. Chip, a former Hanover Humane Society pup, greeted everyone in the Bank, and people were eager to hear Chip's "story" of how his sisters, brothers, and mother were lucky enough to be taken in by the Hanover Humane Society. Chip had a great afternoon!
In addition to all the supplies and donated items, EVB's Branch Manager, Josh Holder, presented Hanover Humane with a Cashier's Check for $89.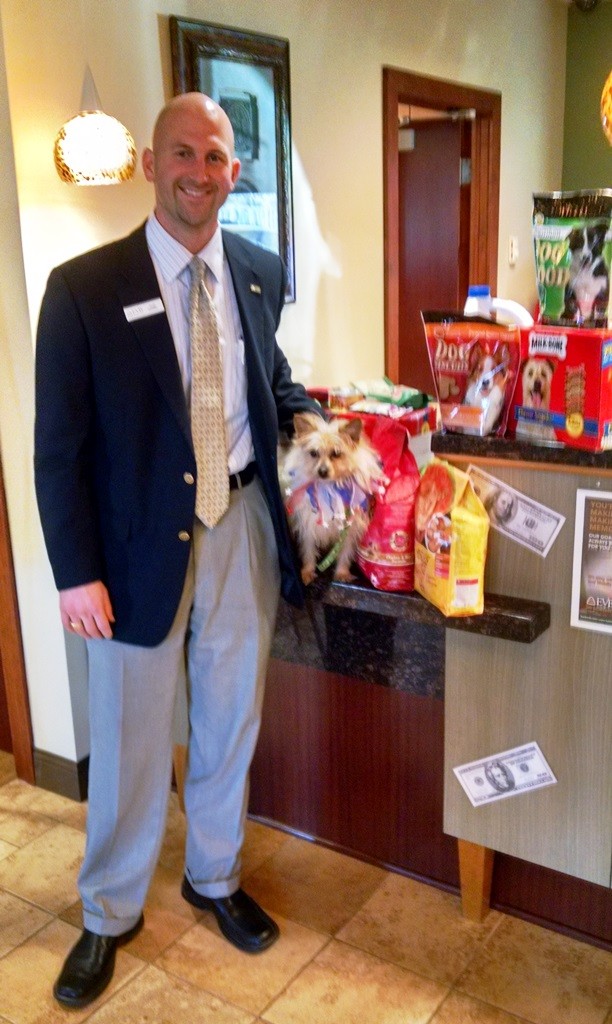 The Hanover Humane Society is a 501( c) 3 non-profit entity located at 12190 Washington Highway in Ashland, Virginia. In addition to offering Private Boarding and Grooming Services for dog and cats, the Hanover Humane Society provides animal adoption, education, and prevention services for residents in Hanover County, Virginia and the surrounding counties.