Approximately, six months ago, my family was given the wonderful news that my husband, Tom, had been given a promotion and was hired for a new job, with a new company! This new job would relocate our two children, Melissa age 10, and Kevin age 6, our dog Alex, Tom and myself from Severna Park Maryland, to Superior Colorado! The move was positive in many ways, we would be closer to family in California and Oklahoma, the dryer climate would be healthier for our allergies, and we would be living in an area with a lot of open space and room to enjoy more of an outdoor lifestyle.
Soon afterwards Tom and I took a house-hunting trip to, ideally, find and purchase a home. With winter and the holidays right around the corner, there were not many homes on the market in the school district we wanted, that were within our price range. With no success on our house-hunting trip, we returned to Maryland, sold our home, and continued our long distance search for a home in Colorado. Moving day was approaching quickly and still we had no place in Colorado to call home. We had to make plans to stay in "temporary housing" (i.e. a hotel) for an indefinite amount of time until the housing market changed. Not wanting to, or having the finances to kennel Alex for an indefinite amount of time, we did not know what we were going to do with him during our stay at the hotel. Alex had become a part of our family, and finding a new home for him seemed unthinkable.
This is where my story about Alex begins. We adopted Alex two years ago as an 8 week old puppy from a wonderful rescue center in Ashland Virginia called Hickory Hill K-9 Rescue, a safehouse for the Hanover Humane Society. Out of desperation, I called Linda Wickham, who operates the rescue, in hopes that she could help us with our situation. I told her that I didn't know what else to do, and that I didn't want to take Alex to a shelter for fear that he would be "put to sleep". Since I did not know how long it would be before we would have a permanent home in Colorado, and I did not want to see Alex without a family of his own for an indefinite amount of time, I sadly asked Linda if she could take him back and find him a good home. I had horrible guilt and felt like we were abandoning one of our children; Linda was sympathetic to our situation, and treated me kindly without ever judging our decision. She suggested that I bring him back to her, and that she would keep him, make an effort to place him in a good home, and should we find a home in Colorado prior to Alex being adopted, she would help to reunite him with our family. This was more than I could have hoped for!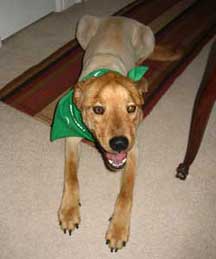 I couldn't be the one to drive Alex to Virginia, so Tom stepped up to the plate and drove him out to the rescue one day while the children were in school (we had discussed this with our children prior to bringing Alex back to the rescue). That day was horrible. My children got off the bus and immediately asked when we were getting Alex back. The tears that followed tore at our hearts. We knew that we would make every effort to get Alex back before he was adopted.
Linda worked with us throughout the entire move! We kept in contact via email and cell phone while on the road and in the hotel. She kept me updated on Alex's condition – which I happily passed on to the kids – and we started making plans for our reunion. The dedication Linda put into finding different, cost-effective, options to reunite Alex with us was remarkable! She explored having him ride out to Colorado with truck drivers, and she explored sending him out on frequent flyer miles (which her sister so generously offered to donate!). Linda explored every possible option, while always keeping Alex's best interest in mind. I was so busy on my end, trying to find and purchase a home, get the kids settled and enrolled in school, etc. that I was not of much help in planning Alex's transportation to Colorado. Linda did it all!
Soon after arriving in Colorado, we found a home and started the long process of purchasing and moving in. Meanwhile in Virginia, Linda continued to search out the best option for Alex's transportation. It was finally decided that Alex would fly out to Colorado via Continental Airlines. Linda purchased an airline-approved kennel, made all of Alex's travel reservations, enlisted the help of her friend Lisa to drive Alex to the airport, and paid in advance for all of the arrangements – even though we reimbursed Linda for travel expenses, she never hesitated to help us out! I don't know what we would have done without her!
We moved into our new home on February 14, 2005. On March 28, 2005, Tom picked Alex up from the Denver Airport. We are all together again thanks to kindness of a very special lady that cared enough to make a difference in the life of a dog and his family. Alex is home now with is "forever family", and we are so happy to have him back!
Thank you to Linda, Lisa and to everyone that helped bring Alex home to us!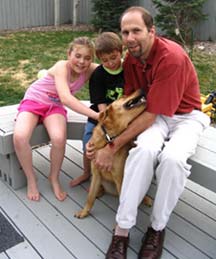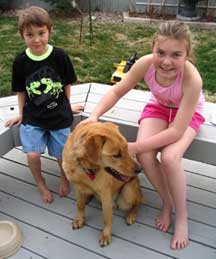 Sincerely,
Terri Gray